A big congratulations to Titanic Belfast as, on Friday, they were crowned the 'World's Leading Tourist Attraction' at the prestigious World Travel Awards in the Maldives!
Having already beaten top contenders such as the Colosseum, the Acropolis and the Eiffel Tower to become Europe's official Leading Tourist Attraction, Titanic Belfast sailed its way to victory to become the World's Leading Tourist Attraction!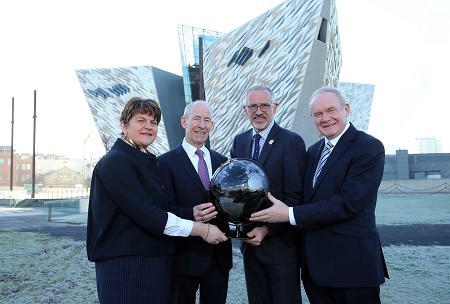 With over 1 million votes cast from over 216 countries in the awards, known as the 'Tourism Oscars', Titanic Belfast was awarded the World's Leading Tourist Attraction title. It beat off stiff competition from eight global finalists, including Ferrari World Abu Dhabi, the Las Vegas Strip, USA, Machu Picchu, Peru and Guinness Storehouse, Ireland. It is the first time an attraction from Ireland, North or South, has won the prestigious accolade.
Tim Husbands MBE, Titanic Belfast's Chief Executive, said; "Over the past few years, we have continued to go from strength to strength but to be voted the World's Leading Tourist Attraction by both the industry and the public for excellence and for our original product, is really the jewel in our crown. We are delighted that this award firmly shines a spotlight not only on Titanic Belfast but Belfast and Northern Ireland, and celebrates our authentic insight and connection to RMS Titanic.
"The Titanic story captures hearts and minds throughout the world and at Titanic Belfast, this is no exception. Our interpretation of the story and ability to engage with visitors on many different levels has been fundamental in winning this award. With the award, we hope to attract more tourists to Northern Ireland to discover it. A huge thank you to our staff and all our supporters that voted, locally and across the world, to help us reach this iconic goal of being the World's Leading Tourist Attraction."
Northern Ireland got behind Titanic Belfast in the bid to become 'King of the World', with the public, industry partners, well-known personalities, politicians, sports stars and businesses providing their support to put the local landmark on par with previous winners including the Taj Mahal, Las Vegas Strip and the Pyramids of Egypt.
First Minister the Rt. Hon. Arlene Foster, said: "In just four short years, Titanic Belfast has become an iconic tourist 'must see', attracting over three million visitors from all over the world.

"We always knew that in Titanic Belfast, we were home to a world class attraction that would become a global brand. While it's no surprise to me it has been recognised in this way, it is a wonderful achievement to win the 'world's best' accolade ahead of other venues like Machu Picchu and the Abu Dhabi's Ferrari World.

"I had the privilege as Tourism Minister of being involved with the project since its inception, and this award is further proof that the investment and imagination that went into this attraction keeps paying dividends for the whole of Northern Ireland.

"I congratulate Tim Husbands and his entire team for the hard work and professionalism which has put Titanic Belfast, quite literally, on top of the world."
The deputy First Minister, Martin McGuinness said: "This is terrific news for Titanic Belfast and will help in our global pitch to make the north of Ireland one of the world's top tourism destinations.

"The Titanic story is well known but it is greatly enhanced and enriched by the visitor experience at Titanic Belfast.

"I commend Tim Husbands, Titanic Belfast's Chief Executive and all his team who are the face of Titanic Belfast. The welcome and hospitality they provide to all visitors who walk through the door is an important part of what we have to offer.

"Rest assured whether it is at home or abroad we will take every opportunity to promote the award winning Titanic Belfast."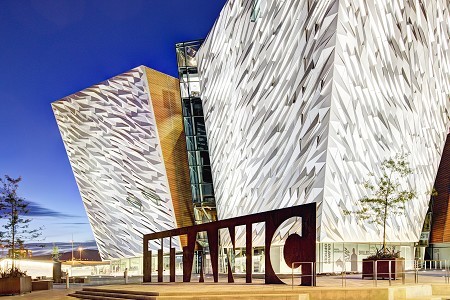 Kerrie Sweeney, Chief Executive of Titanic Foundation Limited, the charity that owns the attraction, commented; "This year has been one of the most successful to date for Titanic Belfast from welcoming its three-millionth visitor, winning the European award and now positioned at the forefront of global tourism. We would like to say a heartfelt thanks to all the dedicated and talented staff at Titanic Belfast who help deliver an unforgettable experience for all our visitors, the future is certainly bright for Titanic Belfast and Titanic Quarter as a maritime destination."