Days Out in the UK
The UK's premier site for things to do and places to go
Featured Attraction
Recently Viewed Attractions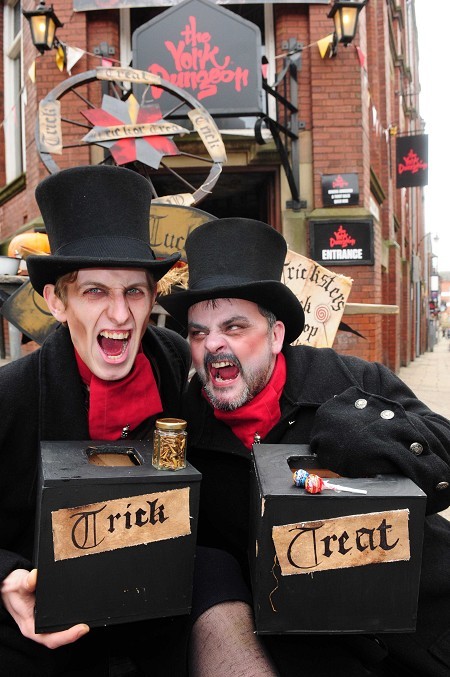 BEWARE: Not for the faint hearted. The York Dungeon has announced the opening of its Witchety Grub Tuck Shop full of nasty surprises that could have your eyeballs rolling and stomach churning!
This half term, from October 25th to November 2nd, visitors will be greeted by the devious Master of Tricks! A few unlucky victims will be invited to sample a variety of crunchy sweets and snacks. There may be a lucky few, who will devour some taste bud tingling treats, whilst others may find themselves chomping on creepy crawlies that will make their toes curl!
Read more
This October half term, Dorchester's Dinosaur Museum comes alive with the Great Dinosaur Hunt. To solve various clues and solve the dinosaur mystery, children will explore the whole Museum. With actual fossils, skeletons and life-size dinosaur reconstructions with hands on, interactive and AV displays, the Dinosaur Museum is the perfect place for a dinosaur hunt!
Tim Batty, the museum's curator said, "The Great Dinosaur Hunt is always extremely popular and is great fun for children. All those children who correctly crack the code and solve the dinosaur mystery will win a special Dinosaur Hunter medal."
Read more
View all DOUK news
July 2014
Time flew by at Chatsworth we came here near the end of our trip to the lovely peak district and it ...
Read More >
July 2014
We stayed here for almost a whole day and the kids loved it especially the displays. Entry prices an ...
Read More >
July 2014
We attended a party with friends. Really impressed with the play facilities, the service, the food ...
Read More >
View all Recent Reviews
View all Events