9:49 AM, February 3 2017
153 years ago, in a remote corner of North Wales, one of the world's earliest narrow gauge steam locomotives arrived at the Ffestiniog Railway in Porthmadog.

Now that locomotive, Palmerston, is returning to London for the first time since she was built there in 1864.

Palmerston will be rolled into King's Cross Station at 0100 on Saturday February 18th, and will be on display in the ticket hall until Sunday February 26th.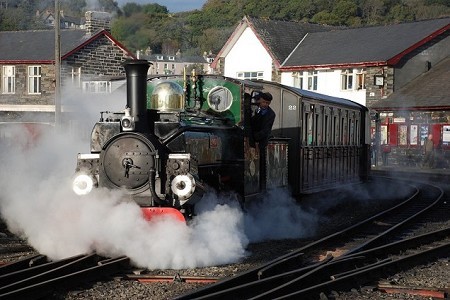 Palmerston was built at George England's Hatcham Iron Works in East London, and was completed in March 1864. The locomotive was named after Viscount Palmerston, Liberal Prime Minister and Chairman of the Welsh Slate, Copper & Lead Mining Company's quarry at Blaenau Ffestiniog. The locomotive saw extensive use on both the Ffestiniog and Welsh Highland Railways until withdrawal from service in 1937. Despite being deemed 'beyond repair', Palmerston was the subject of a long restoration, and eventually re-entered service on the railway in 1993. It currently sits alongside Prince as one of two working original George England locomotives, soon to be joined by Welsh Pony.

For the duration of the visit, our staff and volunteers will be joined by colleagues from the other 'Great Little Trains of Wales' to promote 'Big Train meets Little Train' - The recently published free guide to Welsh narrow gauge railways and how to visit them by rail. The guide was funded by the UK Government, and copies are available upon request.
< Back to the news
Attraction featured in this article
The Ffestiniog Railway takes you on a 13½-mile journey through history to the fascinating town of Blaenau Ffestiniog. The world's oldest steam engines...
View attraction
Rail Services