Rare species to move in at ZSL Whipsnade Zoo as an African hunting dog pack arrive this Easter
The UK's largest zoo is set to get tails wagging with the exciting arrival of a pack of endangered African hunting dogs at ZSL Whipsnade Zoo this April.
Also known as African wild dogs or painted dogs, five members of the fascinatingly charismatic species will be introduced to a huge new exhibit that has been built specifically for them.
The pack will initially be made up of five females – a group of sisters named Malindi, BeeBee, Brandy, Donnie and Ginger – who are relocating from Whipsnade's sister-site ZSL London Zoo.
It is hoped that the group will form a new conservation breeding group in the future, as part of the European Endangered Species Programme (EEP) with the hope that males will join the pack in the future.
The species' scientific name, Lycaon pictus, translates to 'painted wolf' and refers to the animal's white, black and brown mottled coat, the pattern of which is unique to each individual.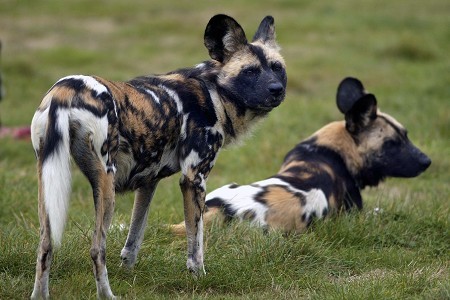 From a raised viewing platform, visitors to Whipsnade will be able to spot perhaps the dogs' most defining feature – a pair of huge, rounded ears that not only help them to pick up vocal calls of pack members with their amazing hearing, but are also used to help keep the dogs cool.
Renowned for their social nature, hunting dogs live in tight-knit units of up to 25 individuals; an attribute that is key to them being one of the most successful predators in the world, boasting a remarkable 'kill rate' per hunt of up to 70% compared to an estimated 30% for a pride of lions.
Unfortunately, such formidable predatory success is no guarantee of survival though; African hunting dogs are classified as Endangered on IUCN's Red List of Threatened Species and due to threats such as habitat fragmentation and human-wildlife conflict with farmers their wild populations are in decline.
The international conservation charity, ZSL (the Zoological Society of London) which runs ZSL Whipsnade Zoo, works in Kenya to help hunting dogs and people to share the same landscapes.
Part of ZSL's conservation field work involves fitting hunting dogs with GPS collars to track their movements in the wild; the dogs arriving at Whipsnade will sport their own 'dog collar' trackers to help our scientists to trial new technology.
To help celebrate the launch of the new African hunting dogs' enclosure, popular characters Chase and Marshall from kids' TV show PAW Patrol are coming to ZSL Whipsnade Zoo on Saturday 8 and Sunday 9 April. The heroic pups will be making personal appearances at intervals throughout the day to see their fans.