There is some speggtacular Easter Family Fun at Brooklands this April with an Easter Trail that will keep visitors entertained every day from 1st – 23rd April. During this period visitors will be able to collect their free Trails on arrival, head off around the Museum to solve the hidden clues, and then back to the Shop to claim their FREE Easter-egg prize.
And there are loads of other Easter attractions at the Museum to keep visitors absorbed for the rest of their visit once they've solved the Trail clues. In fact, the offering is so varied that the Museum has created a special mini-calendar (see below) to remind visitors of the attractions available on each day.
Also from the 1st - 23rd April visitors can experience one of the three exhilarating rides in the 4D Theatre for HALF the normal price between 10am and 1pm – that's just £2 for Adults and £1 for Children. Once seated and strapped in, the motion simulator provides a thrilling experience to make visitors feel as if they are taking part in the real-life action. 'Race' around the Brooklands track in the awesome Napier-Railton Special, 'fly' with the Red Arrows or 'drive' with legend Mike Hawthorn in his Jaguar at Le Mans in 1956. The rides run all day and last around 8 minutes each. For rides taken after 1pm, normal prices will apply (£4 and £2).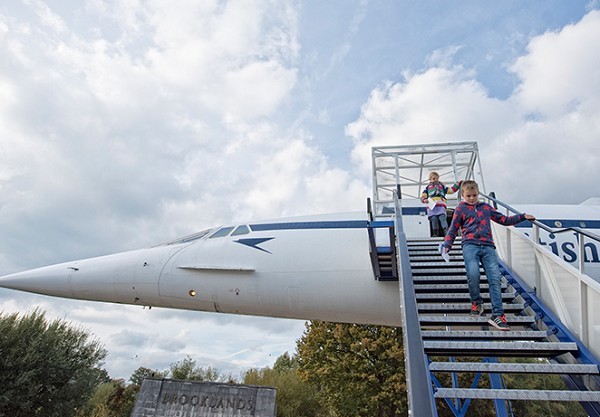 The Concorde Experience is a half-hour virtual supersonic 'flight' on the Brooklands Concorde and runs every day, but on each weekday from 3rd – 21st April, special Kids Tours will be running twice a day. And don't forget to look out for the Museum's larger than life mascot, Bertie Bear, who will be roaming the site looking for fans to have his photograph taken with weekdays 3rd - 13th April.
The Museum's long-established and hugely popular rides in vintage-style cars and on London Bus Museum's iconic double-decker buses will also be operating during weekdays from 3rd – 13th April. Car rides take in the challenging summit of Test Hill and the Members' Banking, the steepest part of the original Race Track, as long as it's not too wet or slippery. Or, for a more relaxed journey, hop on board a real double-decker bus for a bus trip through the surrounding streets. Car and bus rides will run in the mornings and afternoons with a short break for lunch and are subject to crew and vehicle availability.
The Brooklands Learning Team will be running two FREE drop-in workshops for youngsters: from 3rd – 7th April they can find out about how forces and friction work by making Bertie Bear bounce up and down on his elastic string while from 10th – 14th April and again on 17th (Easter Monday), they can look for various objects around the museum in Brooklands Bingo with the first one to fill in their sheet and shout 'Bingo' being the winner. All materials will be provided for these workshops and no pre-booking is necessary.
Add to this a visit to the Museum Shop to pick up a souvenir and a "refuel" in the Sunbeam Café and Brooklands Museum offers the recipe for a perfect Easter day out. Normal admission prices apply: Adults £11, Seniors £10, Children (5-16 yrs) £6, Family ticket (2 adults and up to 3 children) £30. The Concorde Experience is £5 for adults, £3 for children. A minimum donation of £1 per passenger is requested for car and bus rides. The main visitor entrance for the Museum is via Mercedes-Benz World, on Brooklands Drive off Wellington Way between Weybridge and Byfleet.
For full details of events, directions and general Museum information, please telephone 01932 857381 or visit www.brooklandsmuseum.com. The Museum is open daily from 10am.