One of the UK's most eye-catching events of the winter, Longleat's Festival of Light got off to a glittering start earlier this month, and will now run its spectacular show on selected dates through to January 2nd.
This year's Festival only brings the Safari Park's very own 50th birthday celebrations to a close with style, but also marks 150 years of Beatrix Potter - by combining a collection of its own majestic safari animals with some of the author's key animal characters in a series of wondrous scenes.
Nothing quite like The Festival of Light had ever been seen in the UK before it first appeared in 2014 - as hundreds of illuminated designs helped to transform the world-famous Wiltshire estate into a glowing winter wonderland on a spectacular scale.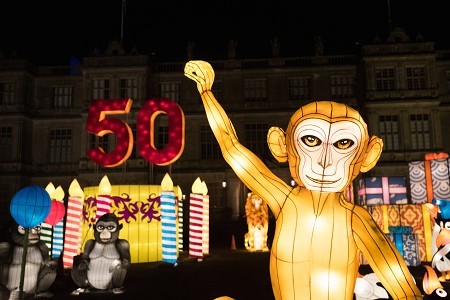 Around 40 types of animals - from Peter Rabbit and Mrs. Tiggy-Winkle, through to lions and giraffes - are depicted in in this year's light show. But the single biggest illumination, amongst a total of around 2,500 individual lanterns this year, is a cake. Standing 20 meters high, and 12 meters wide, the icing on this particular cake is 1,100 meters of silk in 17 different colors, all topped-off by 2,000 meters of LED lights.
The scale of the show is put into perspective by knowing that 146 specialist workers in China took part in the process of making the lights, and that 39 of them actually made the long journey to the UK to oversee their installation. Some 4,000 meters of LED lighting and 30,000 light bulbs are needed for this year's light show, along with around 20,000 meters of silk fabric.
The Festival of Light once again runs alongside Longleat's traditional Christmas celebrations, which includes a new Giant Musical Christmas Tree show which - as well as taking the place of the old one - also features special light projections which tells a magical Christmas story. And this year, Longleat House is decorated for an Edwardian Christmas while also featuring some of the costumes from Royal Ballet production from the tales of Beatrix Potter.
Walk-up day-ticket prices are £30.95 for adults/seniors and £22.95 for children. (These prices will rise by £1 from November 28th). Bookings for day tickets made online in advance also receive a 10% discount Pre-booking is highly recommended, meanwhile, due to limited ticket availability on peak dates.
Admission includes entry to see The Festival of Light as well as the Giant Musical Christmas tree show, Edwardian Christmas in Longleat House plus entry to the Safari Park and all of the regular Longleat Adventure Park attractions!
Longleat will be open this winter Friday-to-Sunday up to November 27th. It will then open daily from December 1st to January 2nd(excluding Christmas Day).