An eight-year-old from Leeds, the world's youngest black belt in kickboxing and karate, has been called upon to cast his expert eye over the final days of construction of a brand-new ride at the LEGOLAND® Windsor Resort.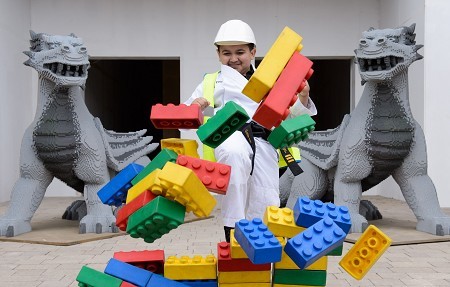 'Master Jake Frood' gave the new LEGO® NINJAGO® World his final seal of approval, ninja chopping and spinning LEGO bricks into place whilst Model Makers and builders worked around him. Jake even got up close and personal with the LEGO NINJAGO dragons to provide essential quality control as the models arrived for installation.
Eight year old Frood was awarded his 1st Degree Black Belt at just five years old, his 2nd Degree Black Belt at six years old and most recently, his 3rd Degree Black Belt at just eight years old, earning his official 'Master' title – the youngest person in the world to receive the accolade!
Master Jake Frood comments: ''It was awesome to be invited to the LEGOLAND Windsor Resort to give my ninja seal of approval to LEGO NINJAGO World and oversee the arrival of the models. I am a huge NINJAGO fan and all of my friends are super jealous. Hopefully my hobby will help me get a good score when I take my turn on the ride!"
Proud mum, Kerry Frood comments: "Jake has overcome many difficult obstacles in his short life having to deal with the challenges of having Severe Hyper Mobility Disorder and Juvenile Arthritis. At just the age of 2 years old he was unable to walk without experiencing extreme pain. It was watching Karate Kid films that gave him the idea to try martial arts. He started training at just 3 years old and it has changed his life both physically and mentally helping him to deal with the pain and giving him something to focus on. I am so proud of what he has achieved and I'm sure he is an inspiration to many children out there that you can achieve your dreams no matter what".
The new land opens to guests on 26 May and will be home to the UK's first ever ride to use state of the art hand gesture technology with 4D effects and a whopping 1.5 million LEGO® bricks - that's enough to reach the summit of Mount Everest or the equivalent height of 3,280 London Red Buses stacked one on top of the other.
Expert Model Makers spent 3,927 hours carefully building over 20 brand new LEGOmodels for the new land, including two five-foot tall LEGO guardian dragons built from 154,560 bricks, a LEGO model of Master Wu and each of the NINJAGO heroes themselves.
LEGO NINJAGO World takes guests through NINJAGO character activities to test balance, agility, speed and creativity: Zane's Temple Build, Kai's Spinners, Cole's Rock Climb and Jay's Lightning Drill. After tackling the activities and perfecting their Spinjitzu skills, guests are prepared to take on the highly anticipated LEGO NINJAGO The Ride. The ride is the first in the UK to use thrilling 4D effects of heat, smoke and wind, alongside state of the art Maestro hand gesture technology, enabling riders to virtually throw fireballs, shock waves, ice and lightning using nothing but their hands.
LEGO NINJAGO World opens at the LEGOLAND Windsor Resort on 26 May 2017. For more details visit; www.legoland.co.uk/LEGONINJAGOWORLD.