3:12 PM, February 27 2017
The True CRIME Museum welcomed author Ricki Thomas last Sunday to tell the story of her correspondence with serial killer Richard Ramirez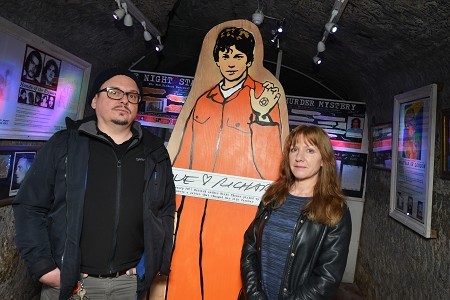 Ramirez (known as The Night Stalker) terrorised Californians between 1984 and '85 and was convicted of 13 murders and a series of home invasions, mutilations and rapes. Thomas explained that she had contacted the killer at a low point in her life and felt a strong physical attraction to him. "He was a good looking guy, but I never felt I was one of his groupies"
As the pair exchanged letters for over nine months, the correspondence became increasingly personal and intimate; "He demanded that I put my perfume onto my letters, he wrote erotic poetry and drew pictures for me"
Museum Curator Joel Griggs said, "The Night Stalker Murders are a fascinating and complicated case. Ricki's letters give a brand new, personal insight into the mind of both a man and a monster."
Ramirez' letters and drawings can be seen exclusively at the True CRIME Museum on Hastings Seafront until the end of February.
Interview Video: https://youtu.be/Mxhc04r4k64
< Back to the news
Attraction featured in this article
Get sucked into the grizzly world of crime and discover all about some of the world's most notorious criminals. Home to an amazing collection of memorobilia ...
View attraction
Speciality Museums